I did it! I hit 100 books! My goal for the year was 50, and after I surpassed that goal this summer, I didn't want to set a new one, because with school started I knew my free-reading time would be limited. Regardless, I think I always had a goal of 100 in the back of my mind, just to see if I could do it. Not to anyone's surprise I am sure, I succeeded.
*This post contains affiliate links, which means when you purchase something through that link, you're helping support this blog at no additional cost to you!*

(Summaries are from Amazon, but all reviews are my own!)
95.

Hidden Figures by Margot Lee Shetterly (4/5★)
Before John Glenn orbited the earth, or Neil Armstrong walked on the moon, a group of dedicated female mathematicians known as "human computers" used pencils, slide rules and adding machines to calculate the numbers that would launch rockets, and astronauts, into space.
Among these problem-solvers were a group of exceptionally talented African American women, some of the brightest minds of their generation. Originally relegated to teaching math in the South's segregated public schools, they were called into service during the labor shortages of World War II, when America's aeronautics industry was in dire need of anyone who had the right stuff. Suddenly, these overlooked math whizzes had a shot at jobs worthy of their skills, and they answered Uncle Sam's call, moving to Hampton, Virginia and the fascinating, high-energy world of the Langley Memorial Aeronautical Laboratory.
Even as Virginia's Jim Crow laws required them to be segregated from their white counterparts, the women of Langley's all-black "West Computing" group helped America achieve one of the things it desired most: a decisive victory over the Soviet Union in the Cold War, and complete domination of the heavens.
Starting in World War II and moving through to the Cold War, the Civil Rights Movement and the Space Race, Hidden Figures follows the interwoven accounts of Dorothy Vaughan, Mary Jackson, Katherine Johnson and Christine Darden, four African American women who participated in some of NASA's greatest successes. It chronicles their careers over nearly three decades they faced challenges, forged alliances and used their intellect to change their own lives, and their country's future.
I bought this book years ago when it originally came out, but never got around to reading it. I knew it would take some time to sift through, and time is not something I have a ton of just sitting around. Then, I bought the DVD, but told myself I wasn't allowed to watch it until I read the book...that was well over a year ago. FINALLY I read it this month. I love everything space and NASA related, this was no different. It told the women's stories within the engineering industry which was fascinating to me, but also detailed the segregation they experienced in that era as well. It wasn't the most engaging non-fiction read, but I did find it very interesting!


96. The House Next Door by James Patterson (3/5★)
The House Next Door (with Susan DiLallo):
Married mother of three Laura Sherman was thrilled when her new neighbor invited her on some errands. But a few quick tasks became a long lunch-and now things could go too far with a man who isn't what he seems....
This book had three short stories in it; this was the first. It was obvious who the bad news character was from the beginning, but the story was still engaging. It kept me on my toes with suspense until the very end, because I wasn't entirely sure how things were going to play out. This was my favorite of the three.

The Killer's Wife (with Max DiLallo):

Four girls have gone missing. Detective McGrath knows the only way to find them is to get close to the suspect's wife...maybe too close
The second story in the book, this one too kept me on my toes! I enjoyed the suspense, and James Patterson's writing. The downfall was that it was just a short story and therefore moved too fast.

We. Are. Not. Alone (with Tim Arnold):

The first message from space. It will change the world. It's first contact. Undeniable proof of alien life. Disgraced Air Force scientist Robert Barnett found it. Now he's the target of a desperate nationwide manhunt-and Earth's future hangs in the balance.
This was my least favorite of the three. It was super bizarre, in a Dean Koontz kind of way, and I feel like it could have been good had it been put into a full novel instead of just a short story.
97. Lilac Girls by Martha Hall Kelly (3/5★)
New York socialite Caroline Ferriday has her hands full with her post at the French consulate and a new love on the horizon. But Caroline's world is forever changed when Hitler's army invades Poland in September 1939—and then sets its sights on France.
An ocean away from Caroline, Kasia Kuzmerick, a Polish teenager, senses her carefree youth disappearing as she is drawn deeper into her role as courier for the underground resistance movement. In a tense atmosphere of watchful eyes and suspecting neighbors, one false move can have dire consequences.
For the ambitious young German doctor, Herta Oberheuser, an ad for a government medical position seems her ticket out of a desolate life. Once hired, though, she finds herself trapped in a male-dominated realm of Nazi secrets and power.
The lives of these three women are set on a collision course when the unthinkable happens and Kasia is sent to Ravensbrück, the notorious Nazi concentration camp for women. Their stories cross continents—from New York to Paris, Germany, and Poland—as Caroline and Kasia strive to bring justice to those whom history has forgotten.
The description of this book sounded right up my alley, but I wasn't super sold in the beginning. It was slow moving, and I put it down for a couple months. I finally picked it back up this month and was much more engaged once I had gotten about halfway through. The story was loosely based on real survivors, and I enjoyed the amount of content the story included about AFTER the war. Though it is a fictional story, you don't get a lot of WWII era novels that include the aftermath.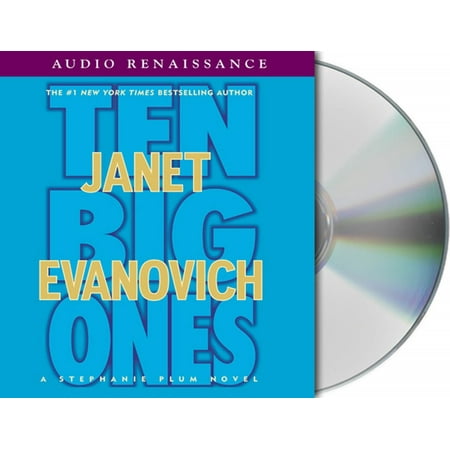 98. Ten Big Ones by Janet Evanovich (4/5★)
She's accidentally destroyed a dozen cars. She's a target for every psycho and miscreant this side of the Jersey Turnpike. Her mother's convinced she'll end up dead . . . or worse, without a man. She's Stephanie Plum, and she kicks butt for a living (well, she thinks it sounds good to put it that way. . . .).
It begins as an innocent trip to the deli-mart, on a quest for nachos. But Stephanie Plum and her partner, Lula, are clearly in the wrong place at the wrong time. A robbery leads to an explosion, which leads to the destruction of yet another car. It would be just another day in the life of Stephanie Plum, except that she becomes the target of a gang---and of an even scarier, more dangerous force that comes to Trenton. With super bounty hunter Ranger acting more mysteriously than ever (and the tension with vice cop Joe Morelli getting hotter), she finds herself with a decision to make: how to protect herself and where to hide while on the hunt for a killer known as the Junkman. There's only one safe place, and it has Ranger's name all over it---if she can find it. And if the Junkman doesn't find her first. With Lula riding shotgun and Grandma Mazur on the loose, Stephanie Plum is racing against the clock in her most suspenseful novel yet. Ten Big Ones is page-turning entertainment, and Janet Evanovich is the best there is.
I don't know if its because I listened to this one on audiobook or what, but I enjoyed book ten more than I've enjoyed the previous few that I've read. I finished book 9 last month, and had some other physical books to get through before I would allow myself to check out this one, but since I had no audiobooks on loan, I decided to borrow it on Libby. I'm so glad I gave the audio versions another chance! The performer on this was much better than the previous one I had listened to on audio, and it had me cracking up!! I got through it so quickly, only to find that book 11 has a 20 week wait to borrow!!!


99. American Predator: The Hunt for the Most Meticulous Serial Killer of the 21st Century by Maureen Callahan (2.5/5★)
Ted Bundy. John Wayne Gacy. Jeffrey Dahmer. The names of notorious serial killers are usually well-known; they echo in the news and in public consciousness. But most people have never heard of Israel Keyes, one of the most ambitious and terrifying serial killers in modern history. The FBI considered his behavior unprecedented. Described by a prosecutor as "a force of pure evil," Keyes was a predator who struck all over the United States. He buried "kill kits"--cash, weapons, and body-disposal tools--in remote locations across the country. Over the course of fourteen years, Keyes would fly to a city, rent a car, and drive thousands of miles in order to use his kits. He would break into a stranger's house, abduct his victims in broad daylight, and kill and dispose of them in mere hours. And then he would return home to Alaska, resuming life as a quiet, reliable construction worker devoted to his only daughter.
When journalist Maureen Callahan first heard about Israel Keyes in 2012, she was captivated by how a killer of this magnitude could go undetected by law enforcement for over a decade. And so began a project that consumed her for the next several years--uncovering the true story behind how the FBI ultimately caught Israel Keyes, and trying to understand what it means for a killer like Keyes to exist. A killer who left a path of monstrous, randomly committed crimes in his wake--many of which remain unsolved to this day.
American Predator
is the ambitious culmination of years of interviews with key figures in law enforcement and in Keyes's life, and research uncovered from classified FBI files. Callahan takes us on a journey into the chilling, nightmarish mind of a relentless killer, and to the limitations of traditional law enforcement.
I'm all about a good serial killer non-fiction, so when a skip-the-line copy became available for this audiobook, I snagged it. I've been into true crime since I was a middle schooler, so it surprised me that I had never heard of Israel Keyes. The story was interesting, but the book was incredibly dry. I listened to it on audio, and the performer did weird voices that didn't seem to fit the people she was pretending to be. A lot of it seemed like transcribed FBI interviews, which got to be too much. I think this case would be interesting on a podcast, however.
100. The Amateurs by Sara Shepard (4/5★)
Five years ago, high school senior Helena Kelly disappeared from her backyard in Dexby, Connecticut, never to be heard from again. Her family was left without any answers--without any idea who killed Helena, or why.
So when eighteen-year-old Seneca Frazier sees a desperate post on the Case Not Closed message board, she knows it's time to change that. Helena's high-profile disappearance is the one that originally got Seneca addicted to true crime. It's the reason she's a member of the site in the first place.
Determined to get to the bottom of the mystery, she agrees to spend spring break in Connecticut working on the case with Maddy Wright, her friend from Case Not Closed. However, the moment she steps off the train, things start to go wrong. Maddy's nothing like she expected, and Helena's sister, Aerin, doesn't seem to want any help after all. Plus, Seneca has a secret of her own, one that could derail the investigation if she's not careful.
Alongside Brett, another super-user from the site, they slowly begin to unravel the secrets Helena kept in the weeks before her disappearance. But the killer is watching... and determined to make sure the case stays cold.
#1 New York Times best-selling author Sara Shepard is back with The Amateurs, first in a gripping new series packed with scandalous twists, shocking betrayals, and sizzling romance.
My reasons for checking this book out were two-fold - one, murder mystery, hello! And two, my guilty pleasures reads in college were the Pretty Little Liars and The Lying Game books series by Sara Shepard. The last book I read by her was a standalone that I wasn't crazy about, but this one redeemed her for now. At first I wasn't wild about it, and I struggled to get into the story line. It's definitely written as a juvenile book, but holy cow, the further I got into it, the more entranced I was. I figured I wouldn't read the remaining books in the series, but then I go to the end, and now I have to!!
Reading Challenge: 100/50 books read in 2019
You can find previous book reviews
here
!